Smart Lab Carinthia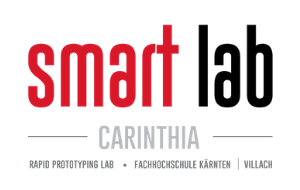 Who are we?
The Smart Labs Carinthia are established as a cooperation project between the two major cities in Carinthia, Klagenfurt and Villach and also between the two universities Alpen-Adria-Universität Klagenfurt and Carinthia University of Applied Sciences.



Which phases of Start-ups do we support?
Business idea

Seed/ Start-ups


Start-ups from which industries are we servicing?
We support all Austrian | Carinthian companies and we do not define a specific focus. The focus is defined by each partner institution.
But anyhow, start-up developments have applications in all industry fields such as:
Business and Productivity

Energy and Utilities

Financial Services

Life Science and Agriculture

Lifestyle and Entertainment

Materials and Manufacturing

Mobility and Transportation

Other


What kind of services do we offer?
Our purpose is to provide a functional teaching and research laboratory for the production of simple prototypes. We provide access to experts and professionals that help with the simple operation of the prototyping machines by the users. We also do work on our own projects or products by putting knowledge into practice. Our usual clients are students, graduates and startup founders. We aim to open opportunities to help founders implement their ideas. We allow for guided 'open hours' to allow basic access and better understanding of our facilities.
Innovating & intellectual property




What is our vision?
We aim to efficiently target promotion of research, teaching and start-up projects in the field of prototype development. Objective of the Smart Lab Carinthia is integration of rapid prototyping in teaching and research, support of students, researchers and founders in the realization of (research) projects through attractive infrastructure and know-how, networking and cooperation with schools and business practice, low-threshold access to innovative manufacturing technologies for students, pupils and researchers and contribution to the development of the business location Carinthia.



How can you contact us?
In case of interest, please refer your questions to Erich Schwarz,
smartlab@aau.at
or Erich Hartlieb,
smartlab@fh-kaernten.at
.
Locations
Klagenfurt: SmartLab Carinthia@AAU (Alpen-Adria-Universität Klagenfurt), Universitätsstrasse 65-67, 9020 Klagenfurt am Wörthersee
Villach: Science & Energy Labs, T10 (Carinthia University of Applied Sciences), Europastraße 3, 9524 Villach
Location:
SmartLab Carinthia@AAU (Alpen-Adria-Universität Klagenfurt), Universitätsstrasse 65-67, 9020 Klagenfurt am Wörthersee