Beeping is an online marketplace that matches customers with vetted, skilled, insured and background-checked cleaners, developed by the Startup of the year 2018, Next. Beeping offers subscription cleanings as well as one-off cleanings. The team and the company are on the path of becoming a household cleaning leader in emerging markets of the CEE region and parts of Euro-Asia. Their vision is to become the first smart platform for household cleaning.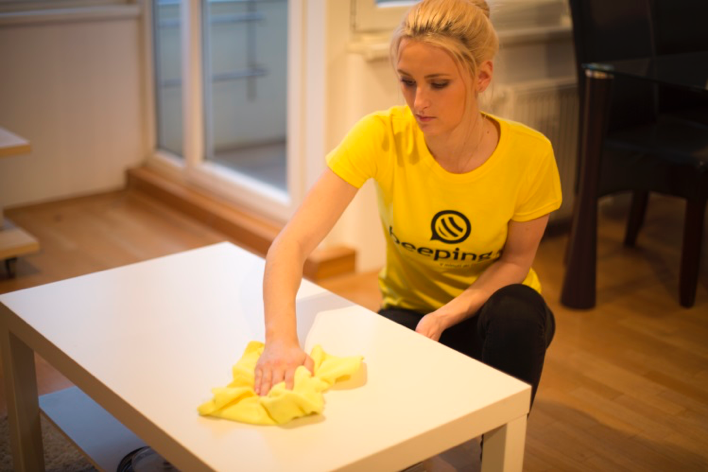 Beeping is an online marketplace that matches you with vetted and trust-worthy cleaners. (Photo: Beeping)
In less than three years – the company was founded in August 2015 – the team of Beeping, led by
Jan Dobrilovič
and
David Mohar
, succeeded in building a locally recognizable brand Beeping with minimal financial investments. Today, Beeping has more than 16,500 registered users, who are accessing up to 100 professional cleaners on two currently key markets. Up to 75% of all cleanings that users book through the Beeping platform are based on a subscription model, while as many as 80% of the users are achieving the retention rate. This way, the Beeping team is ensuring a sustainable business model, which is generating about a 20-percent growth of business every month.
Why Beeping and not the black market?
Compared to hiring cleaners on the black market, the online platform Beeping is bringing key advantages, namely insurance for cleaners in case of damages in the user's home, safety because all cleaners, so-called beepers, are verified, legality because the cleaners have their own company (sole proprietorship or private limited company), simple and fast use of the platform, support to users seven days a week, online payments and guaranteed quality.
Slovenian Startup of the Year 2018
Thousands of households in Europe are looking for occasional or regular help with cleaning and household chores. Even more, every household in Europe annually dedicates more than 15 full days of their free time to this task. There is no legal and clear market of household cleaning services. One of the most frequent solutions is the black market, which is illegal and non-transparent. The young Beeping team, which is housed in the Ljubljana University Incubator, detected an incredibly promising business opportunity in this, and committed themselves to data-driven business operations, which the expert jury of this year's award describes as exemplary, textbook perfect, and an example for generations to come!
Contact
NEXT d.o.o., Staničeva ulica 7, 1000 Ljubljana
Webpage:
www.beeping.si
CEO:
Jan Dobrilovič
E:
jan.dobrilovic@beeping.si
Source
B
eeping.si
Startup.si