Would you like to know which interesting ideas have brought 10 selected talents from Slovenia and Austria into the Start:up Alpe Adria acceleration program for talents, with which we help them develop and realize their ideas?
Selected talents presented their ideas at the openning event of acceleration program in November 2019 in Klagenfurt and since then they have been working on perfecting their ideas with the support of mentors and the Start:up AA team as well as gaining valuable entrepreneurial skills.
Let's get to know our 10 talents a little bit closer.
Haidy Kancler
"I am an ordinary girl, not coming from pro cycling background, just with passion for cycling," said Haidy Kancler, the creator of the
first fashion line of clothing for passionate cyclists
, who presented her idea as the first one at the opening event of the acceleration program.
For most of the sports, there is quite a wide choice of clothing - you can choose between ordinary and also more fashionable pieces. But for cycling it is completely different and
so Haidy found her business opportunity.
"I was tired of boring and always the same patterns," she said. Her rich experiences in the area of film and marketing helped her by development and design of clothing. All these are the reasons why we don't doubt about her success on the global market at all.
"We are bringing unconventional cut, patterns and material combinations in cycling apparel with attend to follow fashion," Haidy highlighted as a key competitive advantage.
She will officially present her products on the market in the beginning of 2020 and in March 2020 she will launch her Kickstarter campaign to raise funds for starting up the production, which she plans to happen in April.
So, visit Kickstarter in March and let's support Haidy's business idea together.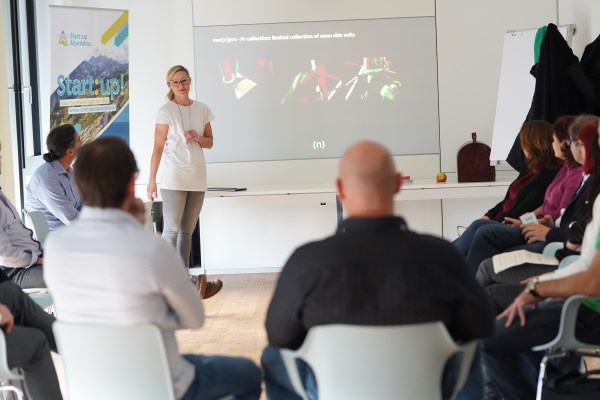 Urban Peklar
"My father has been an insurance agent for over 25 years and I always missunderstood the terms he was using. And it was hard to remember some terms because they were professional and I wondered if other people like me also didn't understand them. Later on I realized that none of my friends, schoolmates knew anything about insurance and knew this is something that has to be fixed," said Urban Peklar, a student at the Faculty of Economics and Business in Maribor and a
future entrepreneur.
His solution is
a platform on which users will be able to find useful and understandable information about insurance, business, finance and politics.
Data will be also presented by infographics and animations.
Urban, we are eagerly waiting for your platform, which will bring the mentioned topics closer to people and help them make better decisions.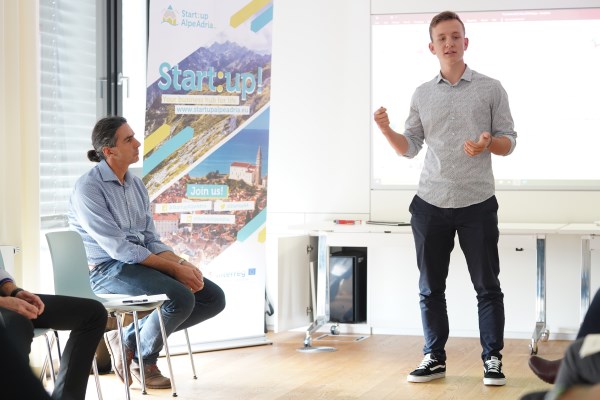 Grega Novak
Are you often not sleeping well? Are you overwhelmed by the speed dictated by your work and your daily commitments?
Grega Novak and Robert Tomanič presented at the kick-off event of the acceleration program for talents a prototype of an
inhalation device, to help you reduce the consequences of stress and sleep better.
Their solution, which they will primarily offer to hotels, wellness and spa centers, is somethi
ng unique on the market, because the device does not overheat the used herbs as the existing products on the market. And this makes it possible to use all their active substances. The appropriate temperature and a special mix of herbs is the winning combination, which will, as believe Grega and Robert, help them to succeed.
So, no medicines, only natural ingredients are the solution to your challenges.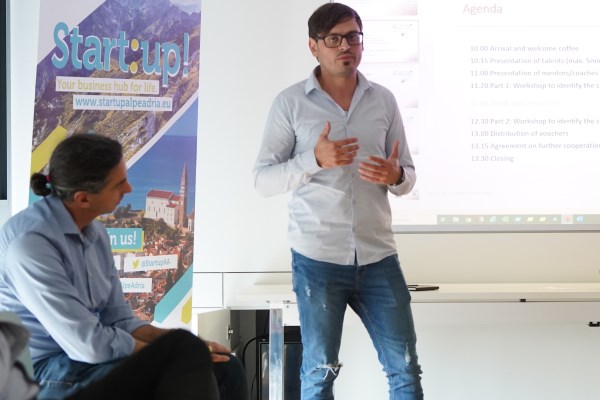 Gabriele Frankl
"Most of our students write exams with a very bad handwriting and for years we've been struggling with reading exams. And that is the starting point of our programme. We developed solution for University of Klagenfurt and then made it available to other faculties for free," told Gabriele Frankl about the beginnings of her business idea.
After 8, 9 years of receiving good responses and the need to upgrad
e the solution, Gabriele and her colleagues recognized the opportunity and, after successfully obtaining funds, developed a new solution - Gradefull, which is a full service-solution for online-grading and online-testing. Online exams offer the advantage of legible free-text answers and the automated correction of standardized question types as well as the use of multimedia or software during exams.
Gradefull helps save 40 % to 90 % of the time invested in the grading of an exam, depending on the types of questions and also offers the software to support the administration of online exams in form of time-slots, support staff, meta-data, an authentication process for students in the lecture hall, as well as statistics.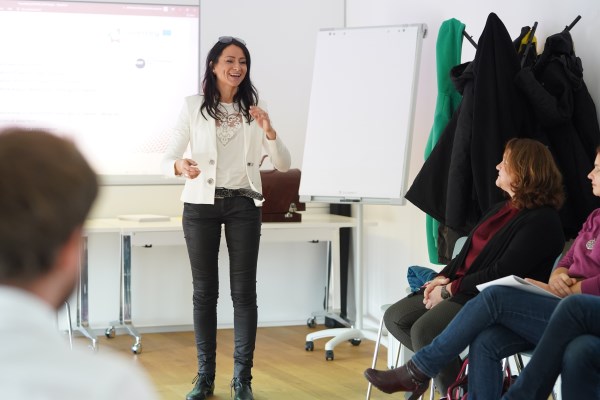 Sonja Haubernhofer
"People often think they are not creative, not skilled and I want to help them with workshops and teach them how to use simple tools to create new things," told about her business idea Sonja Haubernhofer.
Many pieces of furniture that are no longer modern, no longer liked or damaged, end up as the waste, although they could be restored and given a new life with just a little work. Together with her partner, Sonja wa
nts to change this and provide people with skills for renovating furniture.
She thinks very sustainably and encourages human creativity. Great Sonja!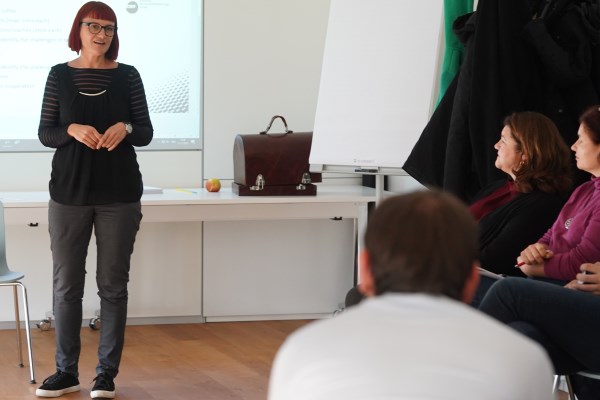 Andrea Gundolf
"Every child has the right to health. And we offer him support in this," said Andrea Gundolf at the opening event. She wants to help school children and their parents
improve their health with her School Health Nursing
, while relieving the health fund of costs.
Results from research show that in Austria, every third child is overweight and every fifth has a chronic disease. Migration, inclusion, vulnerabil
ity, the increase of chronically ill people (diabethes, asthma, cancer, etc.), the promotion of all-day schools and educational centres require additional health care approaches.
Studies show that the presence of nurses at school has led to a considerable reduction in the number of cases of illness due to initiatives by the occupational group. In the USA, it was decided to eliminate or reduce the school nurses for reasons of cost reduction. A cost-benefit analysis was then carried out. The result was: for every dollar invested in the program, the company would gain 2,20 USD in return.
We cross our fingers that you manage to realize your idea as soon as possible! Bravo Andrea and Heidemarie!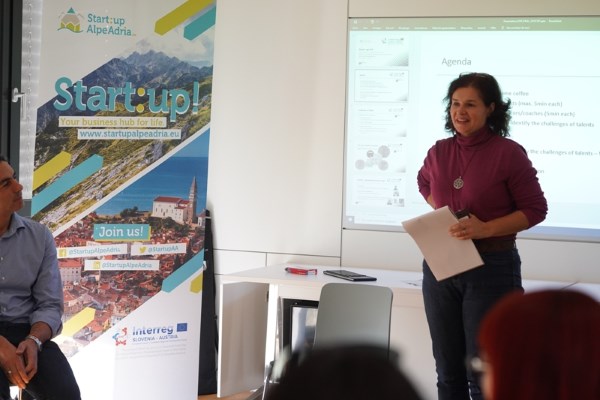 Michaela Simschitz
Carinthia is the only Austrian province to lose inhabitants. By 2030, another 40,000 people will leave Carinthia. The country and politics are already trying a lot with subsidies, projects, initiatives, which are efficient, but not enough.
The concept of
Integral Community Development
is another project that was presented at the opening event of Call for talents. This project is intensively running at the moment, and is addressing
the challenges of population displacement. Michaela Simschitz and the team behind the project highlight practical opportunities and challenges for improving the health and attractiveness of a community and demonstrate the use of opportunities for negotiating and implementing workable solutions in the light of competing priorities on.
For this purpose, they have developed auditive
digital learning creative game
. Interesting approach. We cross our fingers that this project will come to life!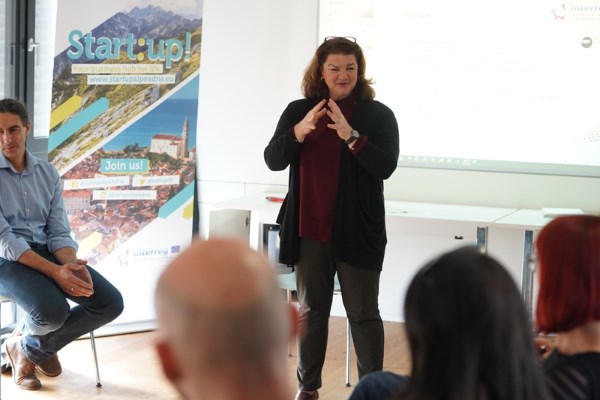 Kyra Borschhardt
"Thirty to fifty percent of people's health problems can be solved without sitting in a waiting room for hours and exposing to new infections," said Kyra Borchhardt, who is developing the
PANAKAIA platform
.
The platform allows video communication of the patient with the doctor
from the comfort of his home. The doctor assesses the patient's condition and suggests further action. Further USPs will be search options considering distance to office and available video
consultation slots. The main advantage compared to current competitors lies in the usability for the doctors as well as for the patients.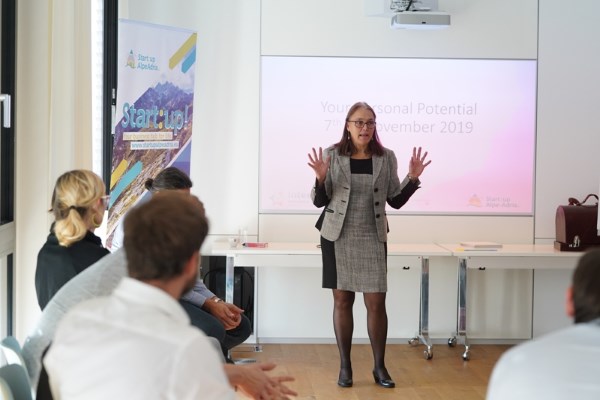 Nik Kolar
Did you know that poor visibility is the main reason for rear end vehicle collisions, which are also the most common car accidents? A team of three young enthusiasts will change that and allow us to be safer while driving by car.
Nik Kolar and his team have developed
a product that warns drivers in vehicles of an inappropriate safety distance.
Product's software calculates the appropriate distance, taking into account current weather status, slope of the roadway
, turns and velocity of the vehicle. None of the available systems on the market is able to warn other atendees of the traffic about the actions of the vehicle carying the system, this is what makes this system unique.
Bravo Nik and the team for this great idea! We look forward to see your solution integrated into our vehicles.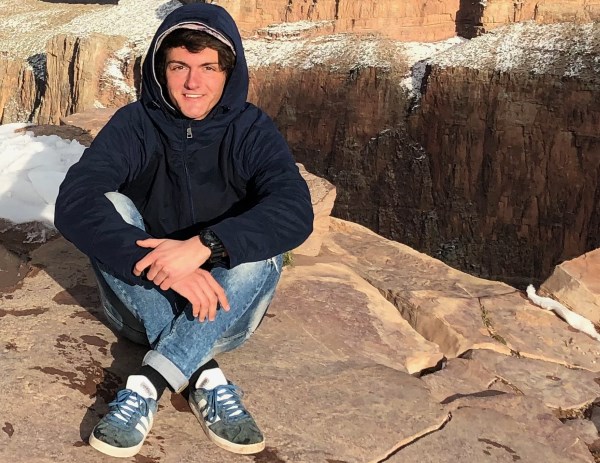 Michael Jesse

Michael and Thomas already have the first prototype, and now they are in the process of making the second one! Guys introduced themselves at the opening event of acceleration program Call for talents.

They are developing solution Boile – it is the first battery-powered mini outdoor kitchen weighing only 750 grams (including battery) with which you can boil water, heat up food, disinfect items or make an espresso. It can be recharged using 220V or via USB or via a solar panel.

Innovative, convenient and useful.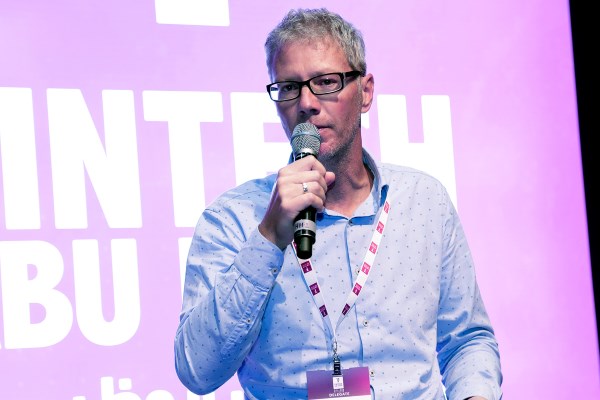 We are wishing you all a lot of success with your ideas and that you manage to transform them to successful startups! Good luck to all of you!