Team 4WEB, which developed a multimedia device for playing adapted digital content for the blind and visually impaired, is preparing an app for teachers. Small company 4WEB from Trzin, finalist of the Start:up Slovenia competition in the Young Challengers category in 2016, is seeing lively development. The company developed feelif, a multimedia device for playing adapted digital content for the blind and visually impaired. The device enables them to feel and recognize shapes on a standard touchscreen. With help of vibrations, sound and voice, the blind or visually impaired person traces the grid with their finger and thus follows a certain shape on the screen. The grid ensures excellent orientation on an otherwise flat screen, while at the same time strengthens the user's fine motor skills.
The Feelif team, led by Željko Khermayer, currently has eight members and their innovation was recognized as the best European social innovation of last year. It was recently also presented on Google. The team developed the tool because they're convinced that currently accessible learning aids for the blind and visually impaired aren't in step with the current tech development, and that the current solutions are too expensive, one-dimensional and have limited mobility. Feelif offers an app and a special silicon grid or protective screen cover, which is placed on the screen of the smartphone device. Both elements – vibrations through the app with a voice module and the network – enable the user to have a feeling for the orientation and recognition on the screen.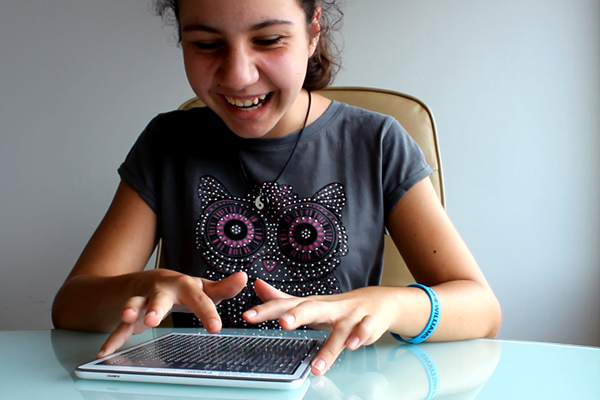 The use value for the blind and visually impaired is learning braille, shapes, languages and writing, providing interactive stories for kids, doing homework, drawing and creating music notation, and playing fun games.

They currently have three products – feelif gamer, feelif creator and feelif pro. They are already preparing feelif book creator, a special app for seeing teachers that will enable them to design study content without prior programming knowledge, explained Khermayer, who is striving to empower the blind and visually impaired to have better access to digital content. "In Slovenia, the insurance company contributes 320 euros to the blind and visually impaired insured persons but abroad, Feelif doesn't yet have a status that would allow it to be obtained through health insurance. We're working on it. We're closest to obtaining it in Austria. In EU countries, the process is slow. First, you need to get approval from the national organization for the blind, followed by the product's entry on the list of tools. In the US, that's not the case. There, whoever has the money, buys it," explains Khermayer. Currently, these markets are where feelif is being established the fastest. They also wish to enter other markets, but the process of obtaining approval is long-lasting. They want to sell 5000 devices this year. The plan is to sell 22,000 feelifs in three years.
Read the full article on Dnevnik.si (in Slovene).