Start:up Alpe Adria Open Call for Seed Stage Startups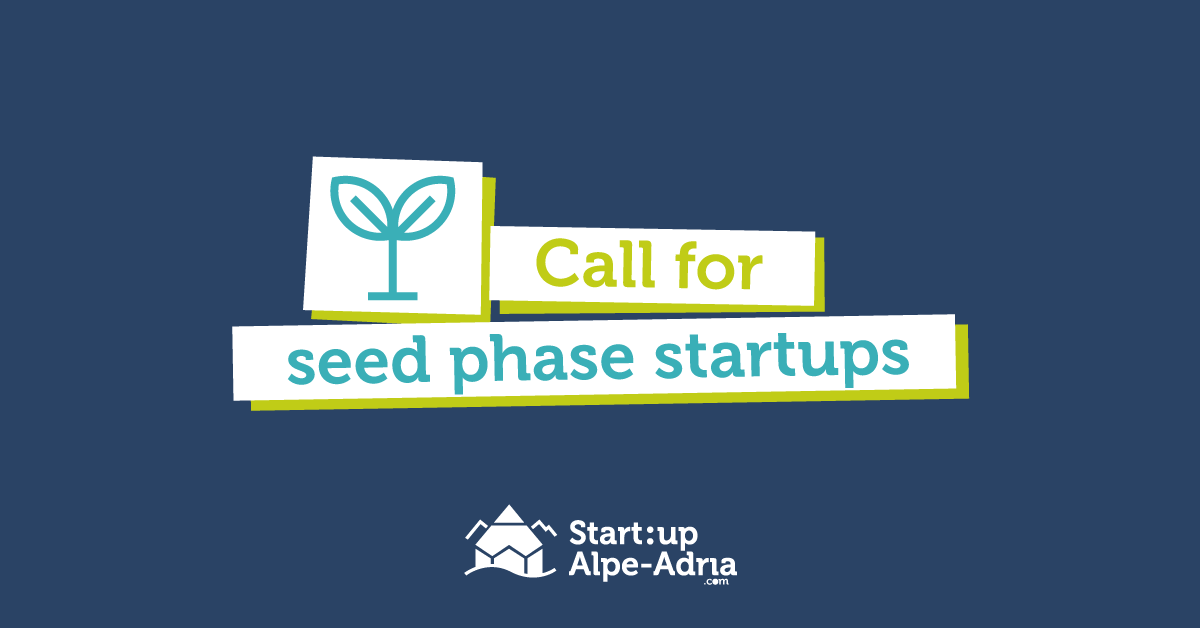 Intensive 5-day Acceleration programme with experts in the key areas of start-up development and growth to aid your breakthrough on the market. For startups that are in development of innovative solutions with global growth potential.
Are you in the process of developing your startup company?
Do you need help with developing and production of your prototype, testing of the business model, searching for potential customers, forging connections with potential investors and business partners?

We have prepared an effective 5-day program for you, where we will help you to perfect your presentation and connect you with the right stakeholders of the crossborder startup ecosystem of the Slovenian and Austrian region.
What will you get?
Intensive 5-day investment readiness programme, that will be held by experts from different key fields of startup development (product development, business plan development, IP protection, innovative marketing strategy, access to financing, startup presentations for investors, negotiation with investors, investment contracts and other legal challenges,...)
8 hours of individual consulting from two dedicated expert consultants, one from Slovenia and one from Austria,
Organization of crossborder presentations in front of international investors on the DEMO Day, with active international investors,
Up to 20 hours of support from Startup AA project team, to provide them with: searching and networking with potential investors and other stakeholders of the crossborder startup ecosystem, support in finding new startup team members from Slovenia and Austria, intensive promotion of the startup business offer to cross-border regions covered by the Start:up Alpe Adria platform.



Local workshops & mentor scheme (lecturers are invited to act as mentors to selected teams; to each team 2 mentors are assigned)


15 November 2019 - 1st DAY kick off: Opening & Business model

- Business model canvas fine tuning

- Perfecting the product market fit

- Value Proposition canvas – value distillery

- Setting up Business KPIs

- IP protection options and needs

- 1:1 mentoring and feedback


Location: TPLJ & Livestream

Lecturers: Tilen Travnik & Jon Butterfield


22 November 2019 - 2nd DAY: Marketing & Selling workshop

- Marketing techniques and available options

- Classic media, PR, articles, TV, radio

- Social media, Blogs, vlogs, Linkedin, FB, Instagram,

- Trending: influencers and micro influencers, podcasts

- Profiling and detailing your perfect customer

- Selling funels and CRM

- Selling team/division creation



Location: TPLJ & Livestream

Lecturers: Maja Voje, https://majavoje.com/


29 November 2019 - 3rd DAY: Legal workshop

- IP protection

- Business contracts

- Investment contracts

- Certifications

- Corporate legal & employees

- Cross-border operations & partnerships


Location: TPLJ & Livestream

Lecturers:


6 December 2019 - 4th DAY: Organization and Financials

- Business organization

- The road to breakeven

- Corporate financials planing, cashflows

- Private investment basics: Company valuations, negotiations,

captables, round planning, founder and investor exit expectations
and strategies, due dilligence

Location: TPLJ & Livestream

Lecturers: Nina Dremelj, AlpVent


13 December 2019 - 5th DAY: Business presentation for investors

- Business presentation perfecting

- Sequoia pitch deck template

- Tips & tricks of pitching


Location: Klagenfurt & Livestream

Lecturers: Tilen Travnik & Jon Butterfield

DEMO DAY


TBD - Joint Event

Warmup & network - Coaching session / an hour prior to Demo Day session

Schedule of the pitches will be announced 14 days prior to event


Location: Maribor


Language: EN

Panel of investors: international

How will we help you?

Dedicated consultants from Austria:



Jürgen Kopeinig
KWF - Kärntner
Wirtschaftsförderungs
Fonds
LinkedIn


Robert Gferer.
build!
LinkedIn


Sandra Moschitz
build!
LinkedIn


Helmut Brückler
build!
LinkedIn



Henrik Fißmann
build!
LinkedIn




Johanna
Macher-Kramberger
BFC - Business
Frauen Center
LinkedIn


Who can apply?
Application is open for startups from the Start-up AA program region, that are developing or have developed innovative products, services or business models and which are in their seed-stage of the company development. A startup is defined by the following criteria:
Independent commercial company, which is developing or commercializing an innovative product, service or business model with high market potential,
The company is not older than five (5) years and not younger than one (1) month,
The company has at least one (1) full time employee
The company is not in a liquidation or bankruptcy process
Registered Company address in the Start-up AA program area
You can submit your startup application here:

Evaluation criteria for the selection of the 10 seed stage startups
Product-market fit
Investment feasibility
Market and growth potential
Team potential and competency



Who will evaluate applications?
Ideas will be evaluated according to the above mentioned criteria where 10 startups with the highest score will be selected.
Aleš Zorc (Venture Factory)
David Belovič (Venture Factory)
Vera Nunić (Technology Park Ljubljana)
Aleš Pevc (Technology Park Ljubljana)
Martin Krch (Lakeside Science Technology Park)
Jürgen Kopeinig (Kärntner Wirtschaftsförderungs Fonds)

Program timeline:
Meet us at Startup AA roadshow Slovenija
Maribor: Friday, 11 October 2019 at 15:30 CLOSED
Ljubljana: October 2019
Meet us at Startup AA roadshow Austria
Klagenfurt: 25 September 2019
Klagenfurt: 16 October 2019 at build! - Sundowner Fall Edition
Villach: October 2019
Open Call for startups start date; 23 September 2019
Open Call for startups deadline; 18 October 2019
Publication of the Results; 25 October 2019
Start of time frame for 5-day investment readiness programme; 15 November 2019
End of time frame for 5-day investment readiness programme; 13 December 2019
Startup AA Demo Day; After end of 5-day programme: 17 January 2020
Mentoring from two startup advisors from Slovenia and Austria; 15 November 2019 - 31 January 2020
Advisory and informational support to the selected startups from the organizational team with the focus on promotion and networking; 15 November 2019 - 29 February 2020

Give your business career an acceleration boost! Apply NOW
Additional info: info@startupalpeadria.eu, +386 (0)2 229 42 70